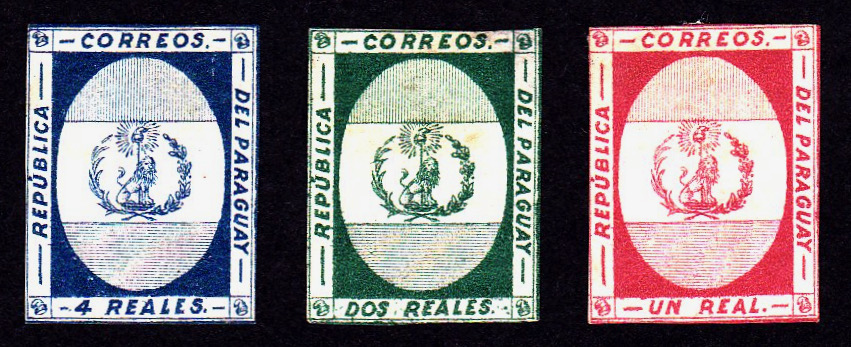 Robert Shaw has been a collector of the early stamps and postal history of Paraguay for over forty years, with a particular focus on the War of the Triple Alliance.
This was the deadliest inter-state war in Latin America's history, with a huge number of casualties, pitching Paraguay up against the alliance of Brazil, Argentina and Uruguay.
Robert was awarded a Vermeil for his exhibit "Land of the Lion and Liberty Cap: a Study of the Lion Essay and the Forgeries" at Stampex, London in 2019.
CLA How did you start collecting stamps?
RS I first started collecting stamps rather late in life (in my late 20's) and joined the Birmingham Philatelic Society (UK) in 1978.
Having collected coins for a number of years, I traded them in for a collection of Great Britain 1879 Tender Essays. From there I expanded other ideas which led to looking at the stamps of Paraguay.
CLA What got you interested in collecting Paraguay?
RS I read about the early history of Paraguay and became interested in the War of the Triple Alliance which lasted from 1865 to 1870.
I obtained a few early items of postal history, essays and forgeries of the Lion Essay prior to the first issue of 1870 and joined the Spanish Main Society, attending their meetings in London.
CLA Why is Paraguay an interesting area to collect?
RS Paraguay has a fascinating history. Its struggle for independence, its dictatorial Presidents, Francisco Solano Lopez (Paraguay's president during the Paraguay War) and then the occupation after the war.
There is also the story of Lopez and Elisa Lynch, his Irish born mistress, the set up of colonies within the country and the Chaco War between 1932 and 1935.
And, of course, all those wonderful items of stamps, postal history and ephemera to search and research.
CLA What are your key areas of interest?
RS I am very interested in the Paraguay War. Although it has been a difficult area to collect, I have managed to obtain a number of items relating to the conflict. These include Brazilian Exercito labels (applied to letters from Brazilian soldiers during the war), war correspondence, ephemera and medals.
I also have a particular interest in the story of Elisa Lynch (President Lopez's courtesan) and have collected ephemera from her marriage to Xavier Quatrefages, her husband prior to Lopez.
I have a copy of Lopez's last will and testament, death certificates for their children, photographs and more.
Finally, I am interested in the Lion Essay of Paraguay and its use on treasury notes. Also the many forgeries, early postal history, essays and colour trials.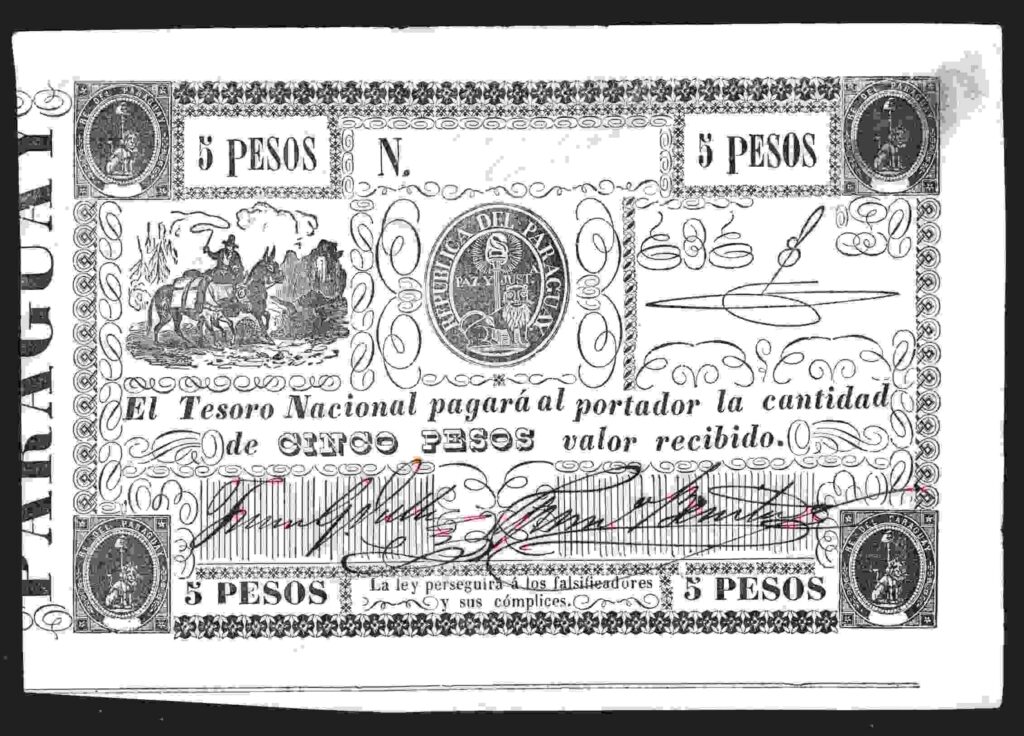 CLA What have been the main challenges in building your collection?
RS The main challenge to collecting Paraguay has been finding the better material. There is an enormous quantity of stamps and postal history out there in the philatelic world but finding covers with fine postmarks, unmounted mint or fine used stamps can prove challenging.
CLA Tell us about some of your favourite items in the collection.
RS I have a number of favourite items…
Firstly, an entire letter sent to Don Manuel Antonio Gil, a merchant in Buenos Aires and written on 19th November 1812. It shows the straight line PARAGVAY mark in red with a manuscript 1½ reales rating alongside.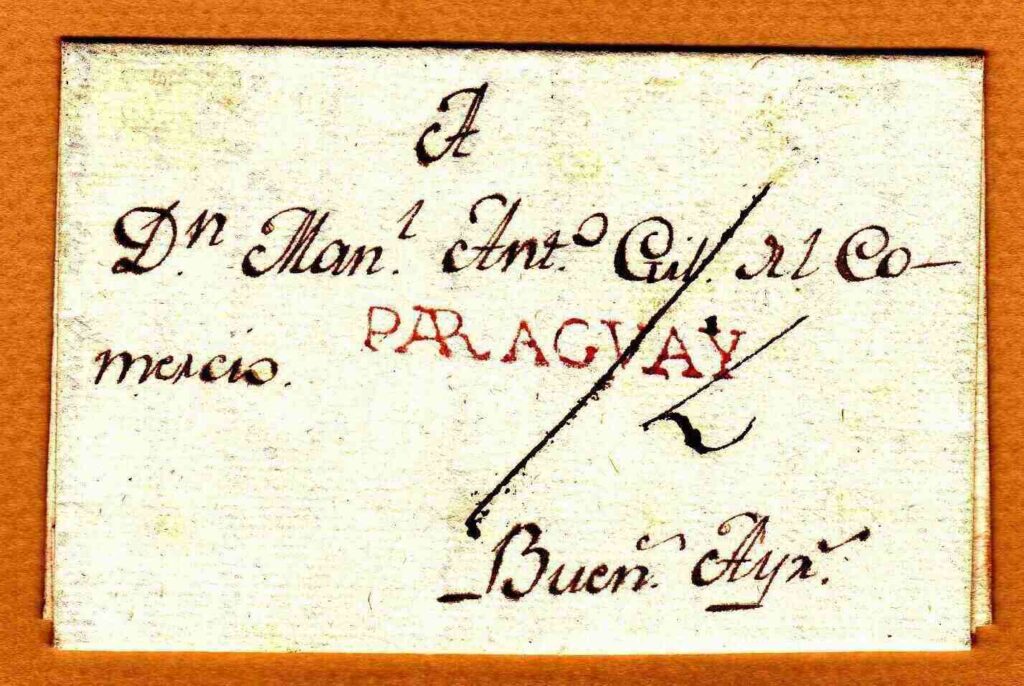 Next, a cover sent to Roberto Billinghurst, Corrientes in about 1856. It is endorsed "Per Salto Guayra" and it is the only known cover to survive being carried by paddle steamboat along the river Paraguay to its destination. The letter was charged at five reales.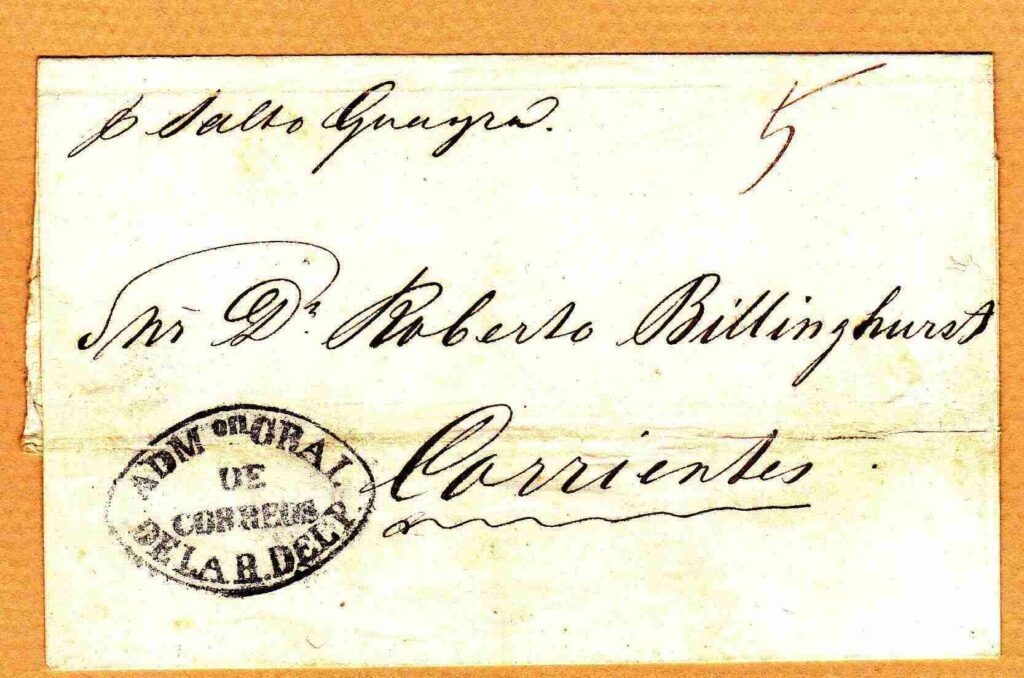 The steamboat "Salto de Guayra" was part of the Paraguayan National Armada during the War of the Triple Alliance. The cover displays the 'ADMON GRAL DE CORREOS DE LA R. DEL P.' handstamp which denoted prepayment of postage and was in use until 1865.
Regarding other early material, I managed to obtain the 1864 Moses Stern Arms Essay in all three colours (illustrated above). Stern was a Parisian engraver whose design consisted of the arms of the Republic: it was never adopted.
I also have one of only three known tete-beche sheets of the Lion Essay of Paraguay.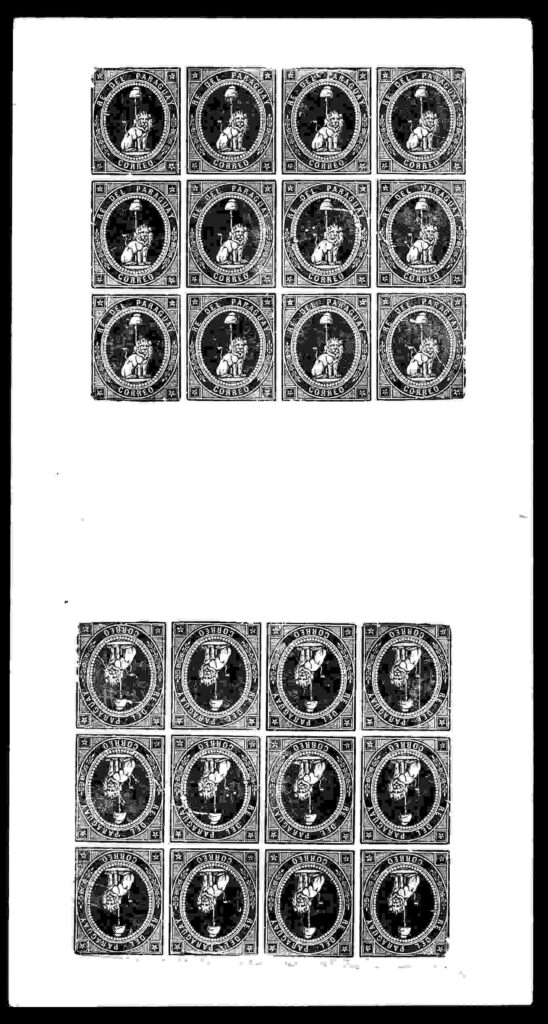 Finally, I have a number of full sheets of early stamps but my favourite is the largest known multiple of the 1885 one centavo dark green issue, overprinted with the large oval cache JUNTA DE CREDITO PUBLICO (Office of Public Debt) in a block of fifty-six.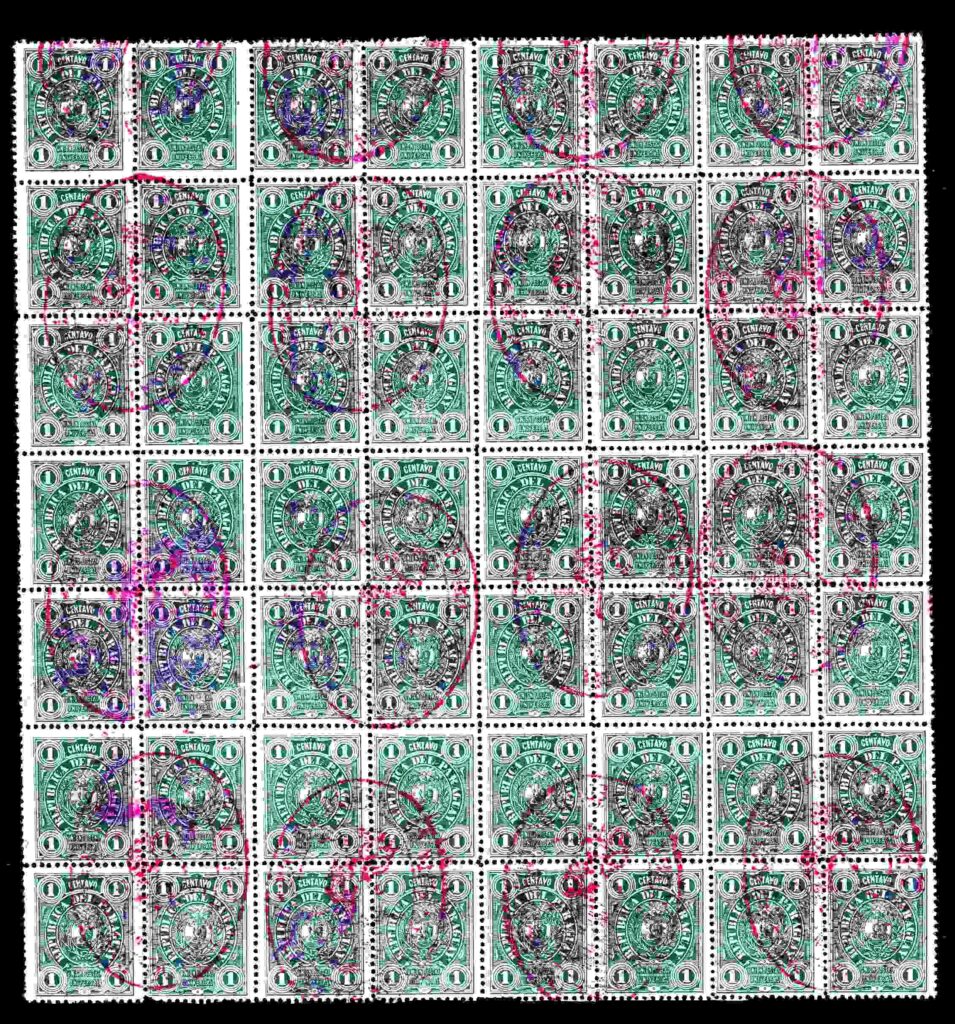 CLA If you could add one item to your collection, what would it be?
RS There are still a number of postal history items and stamps I desire. The one item I would love to have in my collection is the barred "H" diamond obliterator of Humaita used in the Paraguay War in 1868. Humaita was a fortress on the river Paraguay and much of the town was in the hands of the Argentinian forces by July 1868.
CLA Do you have other collecting interests?
RS My collections range from toy soldiers, yesteryear model cars, model yachts and model steam engines; all of those wonderful toys I wished for as a young boy. But about eight years ago, I began collecting Channel Islands local issues and carriage labels and that has built up to quite a large collection.
My interest for Paraguay though has not dwindled and after over forty years I am as much enthused about the subject as I was when I began.
CLA What advice do you have for those considering starting a Paraguay collection?
RS Paraguay has that kind of history that will entice the collector to want to find out more. Research opportunities have changed over the years for seeking information. I have accumulated over one hundred reference and historical books and now the internet gives everyone the same chance to obtain material to enhance their collections. Lots of material is 'waiting in the wings' of the philatelic world for the collector to find.
If I could give fellow collectors further advice it would be that in whatever subject you choose, join a local club or society and learn more about what you collect.
Other members can help with advice and support, notify you of upcoming auctions, local and national stamp fairs, exhibitions etc. They can provide the help and support you need to give you ideas on how to write- up your collection instead of storing it in stock books, out of sight.
Footnote: Since publishing this article, Robert Shaw has written and published a new reference work dedicated to the aforementioned Lion Essay. This well-illustrated work discusses the origins of the essay followed by an in-depth study of the eight different forgery types and the likely forgers.
'Paraguay: Land of the Lion and Liberty Cap – A Study of the Lion Essay of Paraguay 1854-1890' can be purchased by contacting Robert Shaw at robertdshaw@hotmail.com at a cost of £15.00 plus postage.