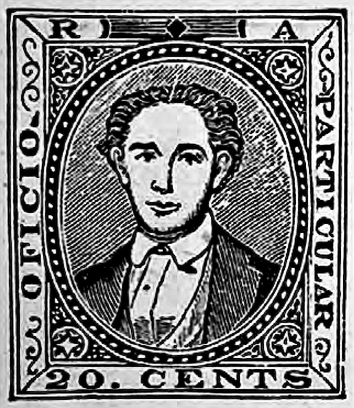 Forgers such as the Spiro brothers, Fournier and Sperati are well-known characters in philatelic folklore. But what of the lesser-known forgers? Gerhard Lang has spent over six years investigating the mischievous creations of the little-known Placido Ramon de Torres…and uncovered one of the most prolific forgers in philately.
He is now conducting research on more 'unknowns' including the Italian forger, Giovanni Patroni. In this article, Gerhard gives a brief introduction to Torres and Patroni and provides some insight into the detective work required to uncover the identities of forgers from the classic era.
His recent book on Torres' life and work is free to download from the link below.
CLA You published your book on Placido Ramon de Torres at the end of 2020. What inspired you to focus on Torres and to write about his work?
GL I had researched and written a thesis on the modern history of the tiny Pyrenean state of Andorra. In this context I found a letter Torres had written to the local authorities and wanted to discover more.
In his book, Philatelic Forgers, Varro E. Tyler had written a few lines on Torres. I couldn't accept that these were the only details on Torres and knew that there must be more information to be found…
CLA It seems unusual that so little was known about Torres, yet it appears he was very prolific as a forger. Why do you think that is?
GL Stamp forgeries were produced at a large scale from the early 1860's. From the very beginning, the focus of stamp experts (mostly British) was on the so-called Spiro forgeries.
This lasted for decades. They were simply blind to the other forgers that were out there.
CLA Torres early career was that of stamp illustrator. He provided illustrations for the very first stamp albums and many of his earlier efforts could be considered fun, harmless or purposely naïve. What prompted him to start taking the forgery business seriously?
GL In about 1862, at the age of 14 or 15, Torres started working for his Florentine patron, Elia Carlo Usigli, one of the first Italian stamp dealers. Usigli supplied images of stamps to his international clients such as Moens, Maury and Stanley Gibbons, who needed black and white drawings of stamps to illustrate their new catalogues and publications.
In the early 1870's he decided that he wanted to do business on his own, develop his own products and realise his own ideas…

CLA Torres forged the stamps of many countries. Why did he focus his efforts on Latin America?
GL One of the very first forging workshops of the 1860's was run by the Hamburg merchant Behrmann. He focused on forgeries of the old German States and so, then, did Torres and Usigli. The Florentine merchant then started with old Italian States. However, Torres was born in Spain and spoke Spanish, so it was logical that he should concentrate on his home country and then on to the Spanish speaking republics of South America.
CLA How prevalent are Torres' forgeries in today's market? Is it easy to still find them?
GL I estimate that approximately 10% of the forgeries currently offered in the philatelic market on the internet are Torres/Usigli forgeries.
CLA Are there specific characteristics of a Torres forgery that makes them easy to identify?
GL It will be easiest for you to look through the corresponding chapters of my book. Torres only made lithographic copies. The 'minor forgeries' are usually unused and often exist in odd colours.
You can sometimes find small jokes or mockeries of the original stamp within the inscriptions. People often mistakenly think that these are accidental errors but he created them purposefully.
The 'major forgeries' are those with cancellations. Look at the 'fakes gallery' at the end of my book to get a closer feel for Torres' work.
Giovanni Patroni
CLA You have recently embarked on studying other lesser known forgers, like Engelhard Fohl and Giovanni Patroni. Why have you chosen to study them?
GL Personally I find it intriguing and very exciting. Something like a good thriller on television; finding out what people long ago tried to hide.
And I want to contribute to discover the truth. Things that earlier researchers like Varro E. Tyler could not find, mainly because the internet did not exist during their time.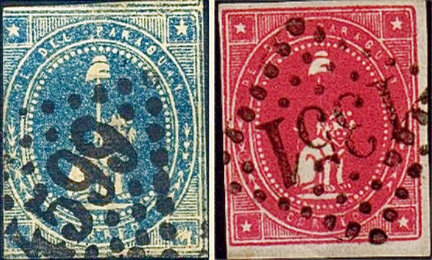 CLA Patroni's focus was on forged cancels. Are there common characteristics that would help a collector spot one of his creations?
GL Most forgers or forging workshops that produced imitations for a large range of countries, can often be identified by the cancelations that they applied.
The typical 'Spiro' cancel, for example, is the most commonly known.
Patroni is not so straightforward however, because of the huge number of strange, fake cancels he created.  More than fifty have been identified, some of them quite unusual.
One of the most used is the diamond of thick dots. The shape of the dots is uneven and the number in the middle changes frequently.
Another characteristic to watch out for are his blurred, milky grey cancels (see examples below).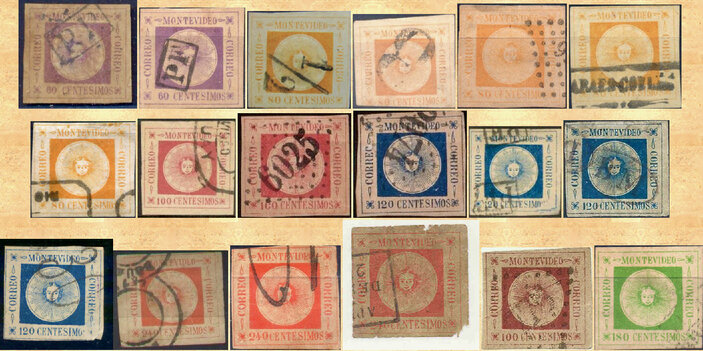 CLA Are there particular issues from Latin American countries that collectors are likely to find examples of Patroni's work.
GL Patroni was active between 1869 and 1878. He created forgeries towards the end of his career so collectors should be looking out for examples from issues at around those dates. He created forgeries of nearly every North and South American country, from top to bottom.
CLA Do you have further study ambitions once your Patroni investigations are complete?
GL I do. As well as my Patroni research I am also leading a parallel investigation into another, as yet unconfirmed, forgery workshop.
The forgeries from this workshop are easy to detect because they are very similar and have particularly neat and – normally –  clear cancelations. I have detected these cancelations from at least forty different countries. I believe that this is the largest unknown forgery workshop yet to be identified.
CLA Do you feel there are many other lesser known forgers of Latin American stamps that deserve greater exposure?
GL Discovering forgers is a hard business. Generally we know only of the great workshops. Those that typically had a large range of 'products' and well-organised distribution.
There existed however, many little forgers that have probably disappeared forever without leaving traces that enable us to identify them. They made only a few imitations of a specific area and then sold them on into a quite limited market. Remember, I am trying to find evidence about things that happened 150 years ago!
CLA Do you have any guidance on how readers should identify forgeries within their own collections? Are there particular resources that you would recommend?
GL I should clarify that my research is on classic issues of the 19th century. In terms of online resources, in my opinion, the two most useful websites are stampforgeries.com and stampforgeries.blogspot.com
CLA How can readers help you in your research?
GL I would appreciate it if readers could send me scans or photos of any suspicious examples of stamps with strange and unusual cancels (the higher the resolution, the better). This would help contribute towards building a larger database of the Patroni forgeries and possibly to help build a picture of other forgers.
I will try to answer every email sent and identify the forger, if I am able. Bear in mind that Patroni forged not only nearly all North and South American countries but also covered European countries and British colonial territories in Africa (those issued issues prior to 1878).
You can write to Gerhard directly at langvalchs@hotmail.es.
His book on Placido Ramon de Torres is an excellent and well-illustrated read. You can download a pdf copy for free at Phila Historica