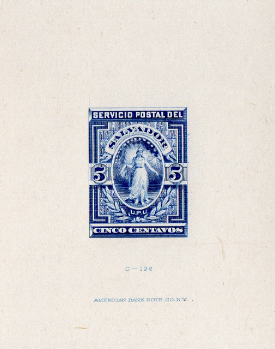 After a mere 148 years, the RPSL finally got to put on a display of El Salvador on 9th November.
Guillermo Gallegos had come from over from Mexico to present "The Prestamp Period of El Salvador" with a twelve-frame display covering the colonial period through until the end of the pre-stamp Republican period.
Much of the collection is referenced in Guillermo's eponymous book that was published by the Collector's Club of Chicago in 2015.
The display was rounded off by the inclusion of a selection of 19th century American Bank Note and Hamilton Bank Note die proofs and colour trials. Perhaps outside the title of the exhibit but a rarely seen selection of early Salvadorian material (and a personal favourite).
Guillermo is also actively involved with AFISAL (Asociación Filatélica Salvadoreña www.elsalvadorphilately.org ) and is working on a second title to cover the early issues of Salvadorian philately. For those wishing to explore further, the society maintains a digital library of its in house journal El Faro and its successor The El Salvador Philatelist, all published in English.