Auction trends in 2020 and a fabulous collection of Venezuela comes to market
Like so many industries around us, the philatelic auction business has gone into hibernation mode.
The inability for people to gather means the physical perusing of auction lots is not going to happen for a good while yet. Most of the major houses have postponed their spring sales until later in the year. Some of the revised dates look hugely ambitious to me.
I'm not convinced that the pandemic is going to rapidly disappear and things are going to get back to normal all that quickly…
And even when lockdowns are universally lifted, are – let us be honest – predominantly older men going to want to congregate en masse in the close confines of an auction environment?
Possibly not until a freely available vaccine gives one the confidence to mingle with impunity.
Online auctions take centre stage in 2020
Fortunately, we have the benefit of online bidding to fall back on and unless healthy cash balances and patient sellers allow it, I can see many of 2020's auctions ending up being online only affairs.
Many houses had juicy inventories backed up for the now postponed London 2020 event and sellers will have been waiting patiently, so the pressure will be on from some to either go to market online only or pull their lots for another day, farther into the future.
With good descriptions and clear images, there is no reason why singles and sets shouldn't do just as well as if the auction were still live.
Collections though, are going to demand more of the auction house.
Buying blind on a collection is always going to be a gamble. This then puts much more emphasis on photographs and spending the time to create many more images for album sales.
More work for the auction house but future sellers are going to be keen to align with auctioneers that can show off their collections in the best light over an internet connection.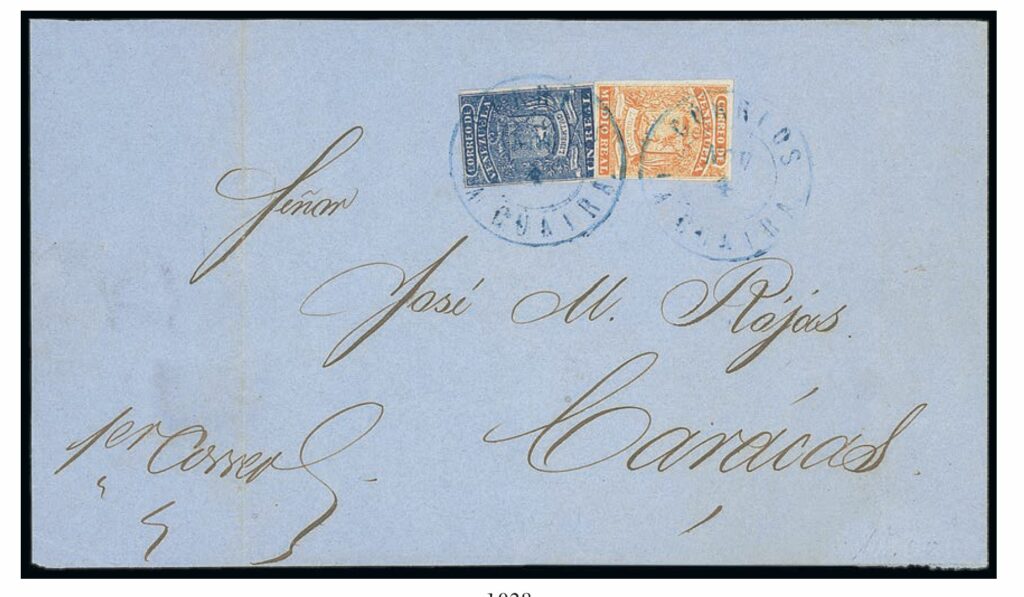 High ticket Venezuela at Spink
Interestingly, Spink have bucked the trend by not postponing and have a phenomenal holding of Venezuela coming to market on 29th April (The "Lugano" Collection).
The last meaningful sale of Venezuela we've seen was the Brack auction of 2016. However, this 'behind closed doors' sale is solely focused on the 1859-62 first issue. It contains many of the key items of early Venezuelan philately and will need very deep pockets for the high ticket rarities.
Aggregated bid estimates come in at $800,000 plus – and that's the low estimate. Star billing goes to the 1859 Medio Real Red Error of Colour, billed as 'The Most Important Item of Venezuela Philately' at a low estimate of €200,000.
An online only sale of early Venezuela that nets over one million dollars? Let's see!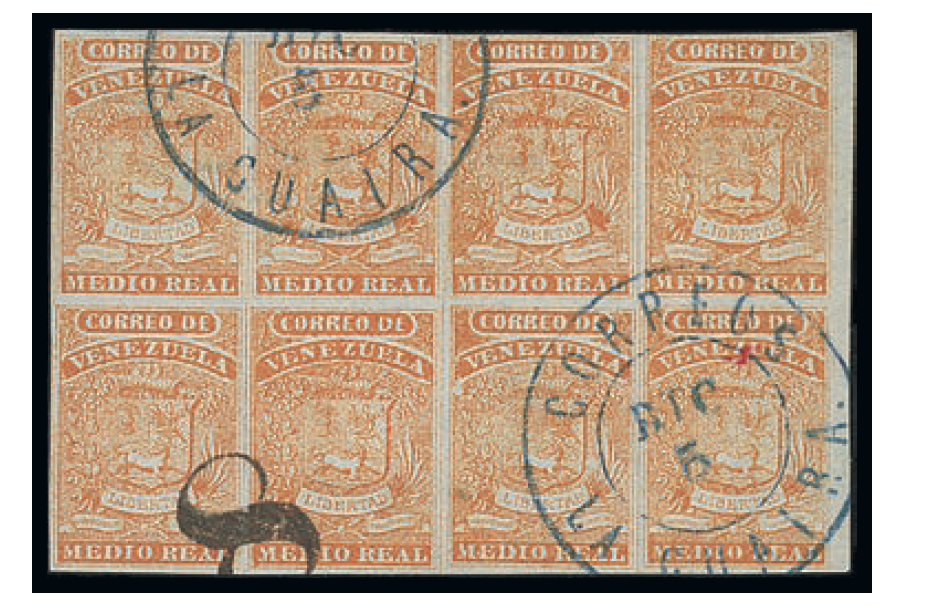 Byerley and Moorhouse auctions postponed
Two important postponed sales to keep an eye on…
Firstly, Part II of the vast Bill Byerley collection of Nicaragua will be offered by Harmers on June 16th. Only eight weeks away so watch to see whether this doesn't get another postponement.
Secondly, the third part of the late Brian Moorhouse's dealer stock is being auctioned by Corinphila; now delayed until early September. No doubt this will contain a smorgasbord of Latin American delights from across the continent.
In the meanwhile, as the world self-isolates and gorges on screen time, perhaps philately may be reinvigorated by a house bound, inquisitive audience with a newly found desire to engage with the world through those little bits of coloured paper.