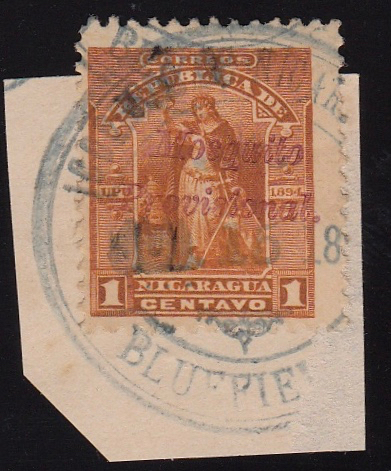 Brian Moorhouse's auctions tend to be somewhat infrequent affairs, the last being held in February last year. Peterborough is a rather incongruous location but for a single day it becomes the epicenter of Latin American philately.
Brian had curated over 750 lots and attendance was good with a number of international collectors who had made the pilgrimage. And bidding was strong with less than 4% of items unsold.
A wonderful selection of over 100 die proofs of the El Salvador 1895 'Coat of Arms' issue sold for £2500 and a run of 14 exhibition pages of the 1932 Nicaragua 'Earthquake' issue achieved £2000.
A pair of the 1858 Uruguay 180c Block Letters reached £1100. Interesting to note the premium paid for the pair as the preceding lot was for a single of the same issue in equivalent condition that was snapped up for a mere £70. Shows how even small multiples can have a significant knock-on effect on price.
Colombia was strong (as ever) and Haitian collectors were well served with a good selection of lots, including an 1846 pre-stamp cover bid up to £1100.
A surprise result was for the 1894 Mosquito Coast Provisional with seven copies on piece. This achieved nearly 14 times the start price, closing at £550. The preceding lot was also a Mosquito Coast Provisional, this time a pair on cover and went for £280. Although not listed in Gibbons or Scott, it appears in Michel and is an issue apparently sort after by ASFE (A Stamp From Everywhere) collectors, a branch of philately particularly popular in Eastern Europe, with the objective of collecting at least one item from every stamp issuing 'authority'.
I placed a few select bids on some of the bulkier lots and came away with some useful selections for future sorting.